Adventures from a Tuk-Tuk : Cambodia
There's something about being in the back of a tuk-tuk, wind blowing in your hair, watching a land seeming so ancient and mystical fly by.
You feel more of a part of it all.
A part of something real.
A part of something that's been around a REALLY long time.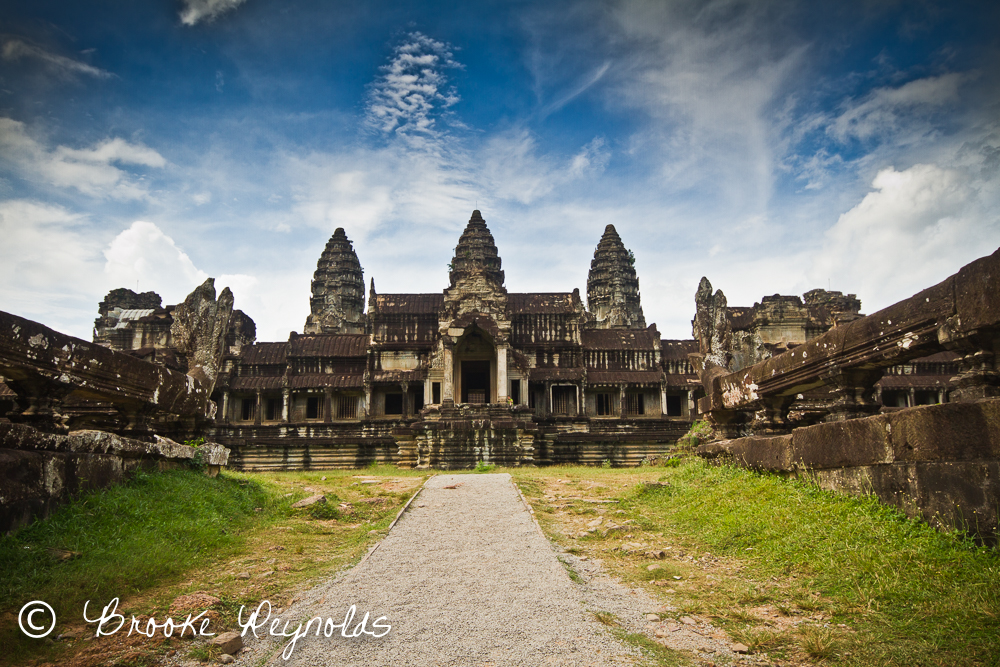 Angkor Wat in Cambodia.
It's a UNESCO World Heritage Site that includes the remains of the many capitals of the Khmer Empire during the 9th – 15th century. The temples are really amazing, some of them overcome by trees that grow around them and are slowly crumbling and being overtaken by nature.\\
The temples go on for miles and miles, about 500 acres of scattered temples and more across Cambodia. I recommend at least 4 days here!
We had 4 days in Siem Reap to explore the temples and we hired a local named Same to drive us around in his tuk-tuk. It was our first time in a tuk-tuk, so we were excited. 😀 It's one of the standard forms of transportation in Cambodia as well as other places in Asia. I think we need some in the U.S.!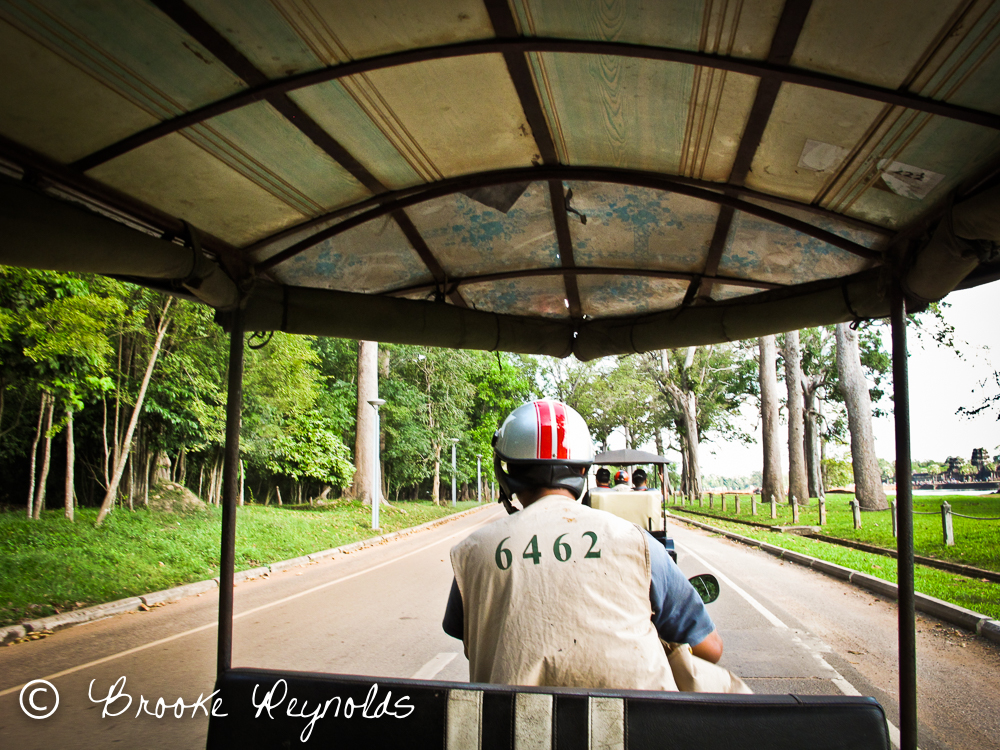 We stopped at temples that looked interesting. This one had buddha faces on all sides. (The Bayon Temple)
A blessed bracelet of yarn from this buddhist… I didn't take it off for months…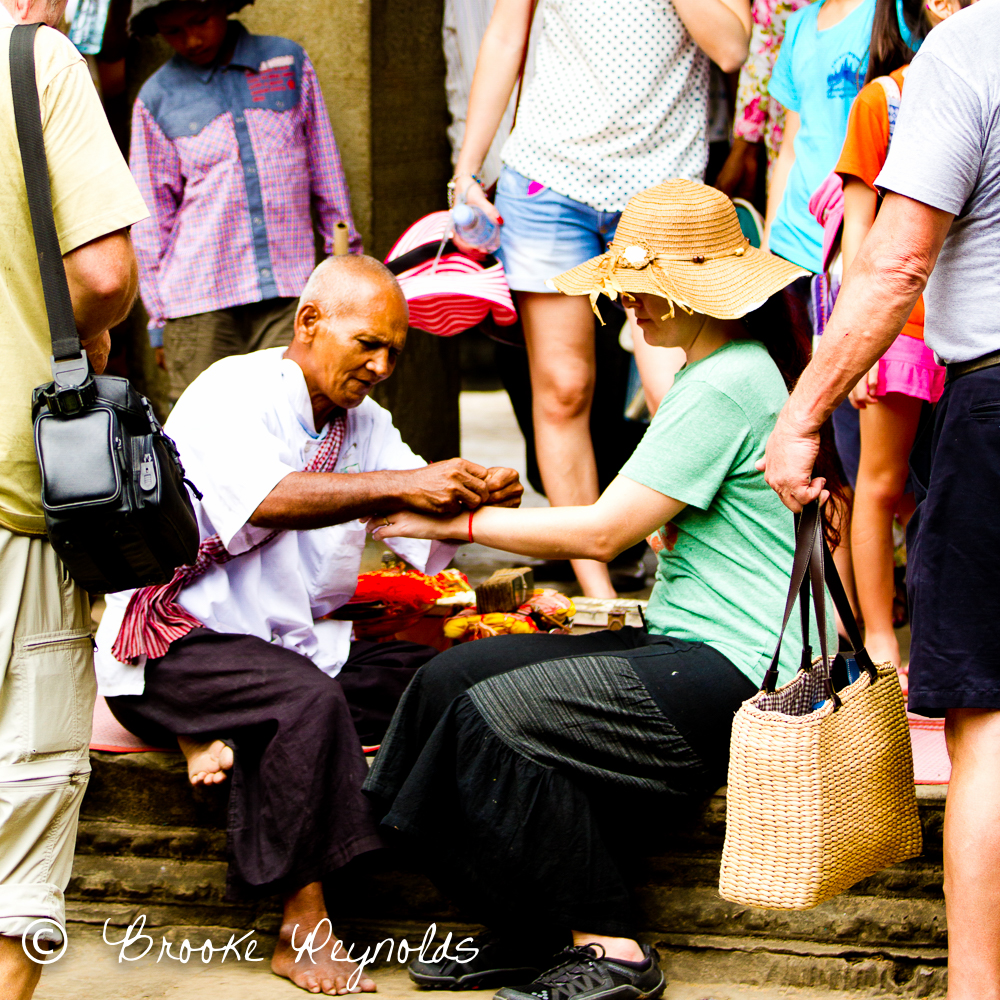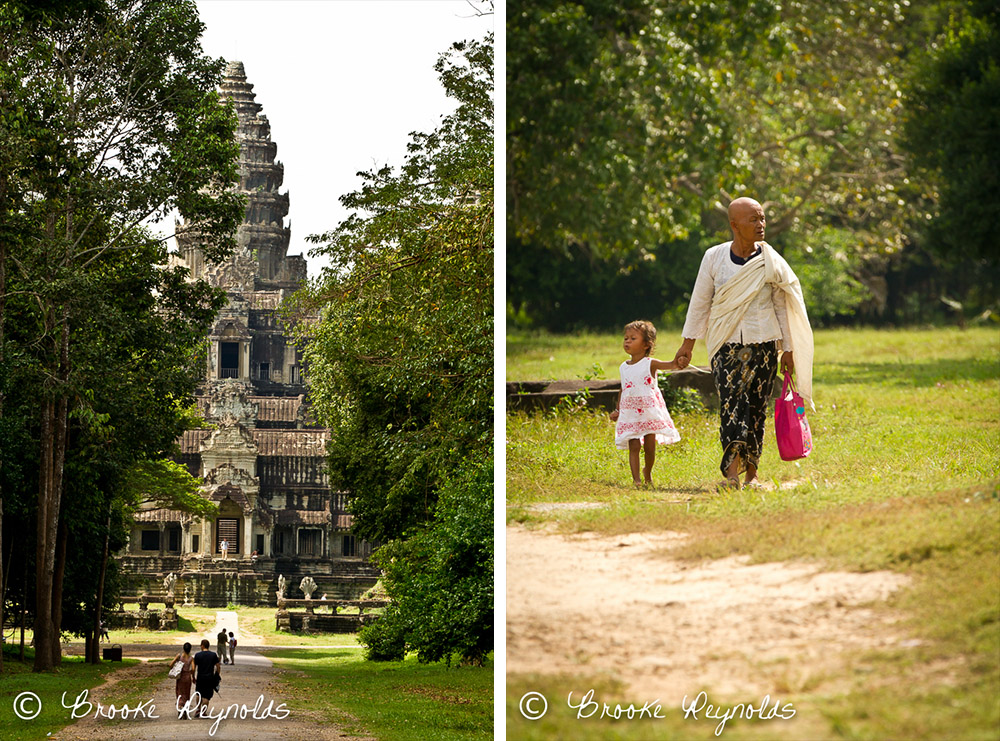 Sometimes, there are families of 6 or more on ONE BIKE.
Just some monkeys chilling in a sunny field 😀

Quiet nature…

Hiking in 100 degree heat with a 50+ lb camera bag. I wouldn't have it any other way!  >.<
Best coconut green curry. Ever.
These girls work long hours trying to sell trinkets to help make money for their families. 🙁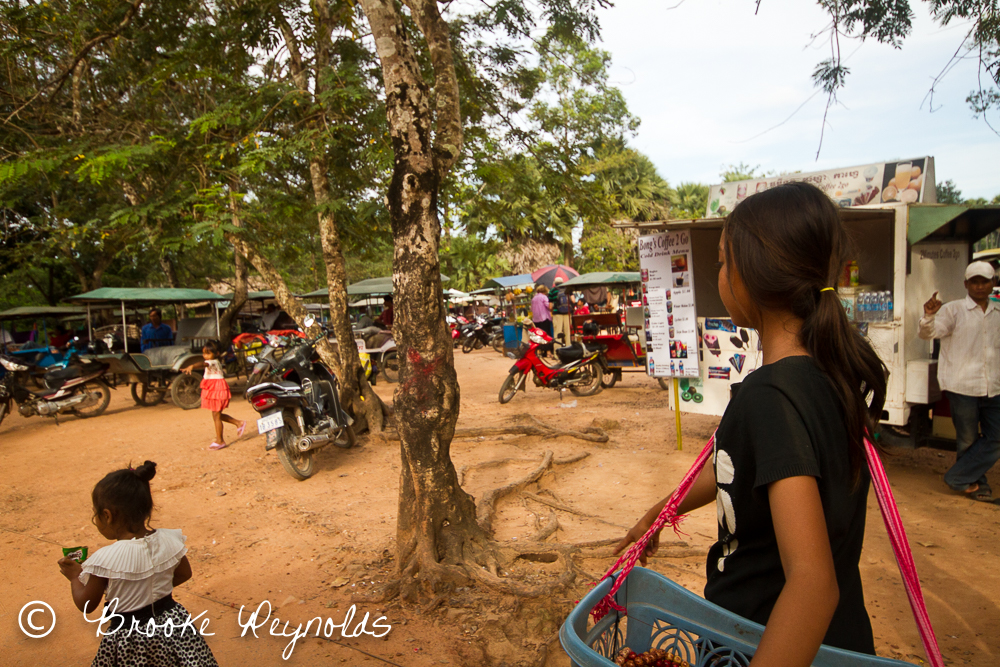 When nature crushes civilization…

This bridge of buddhas was amazing. So are the people on bikes. I love it all…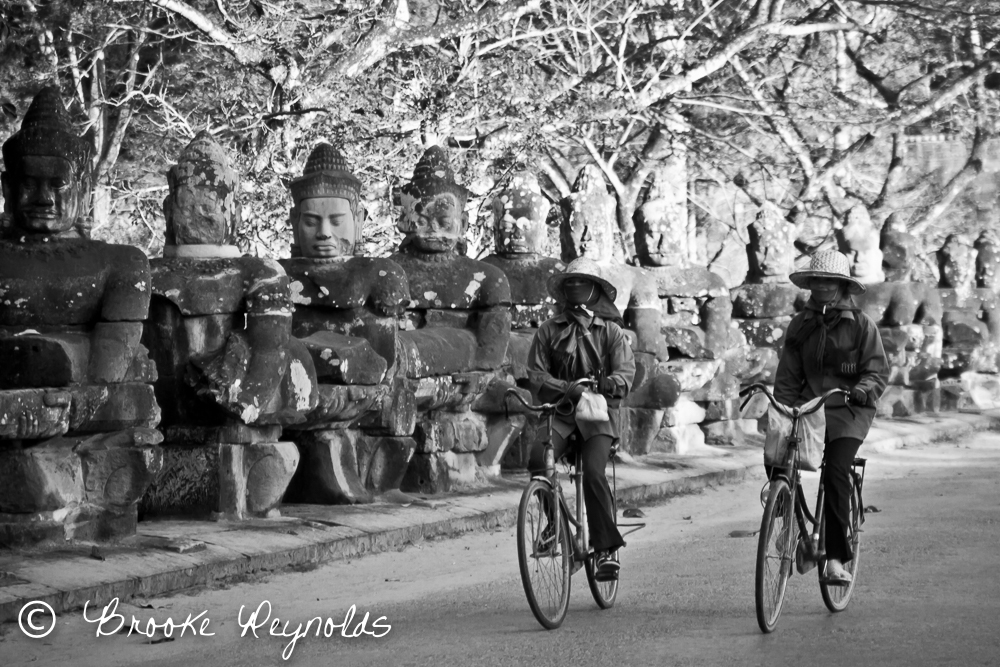 Feeling the spiritual energies of the abandoned temples…

This woman was praying and burning incense for a long time. It was beautiful and mesmerizing.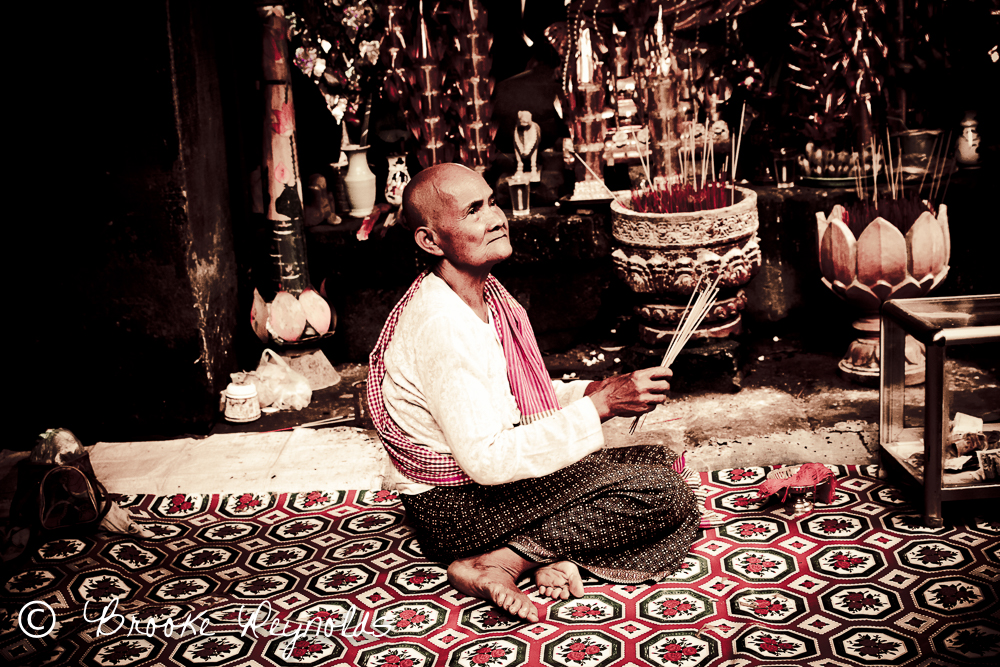 Ta Prohm – what. a. temple. The trees are so powerful. It's breathtaking.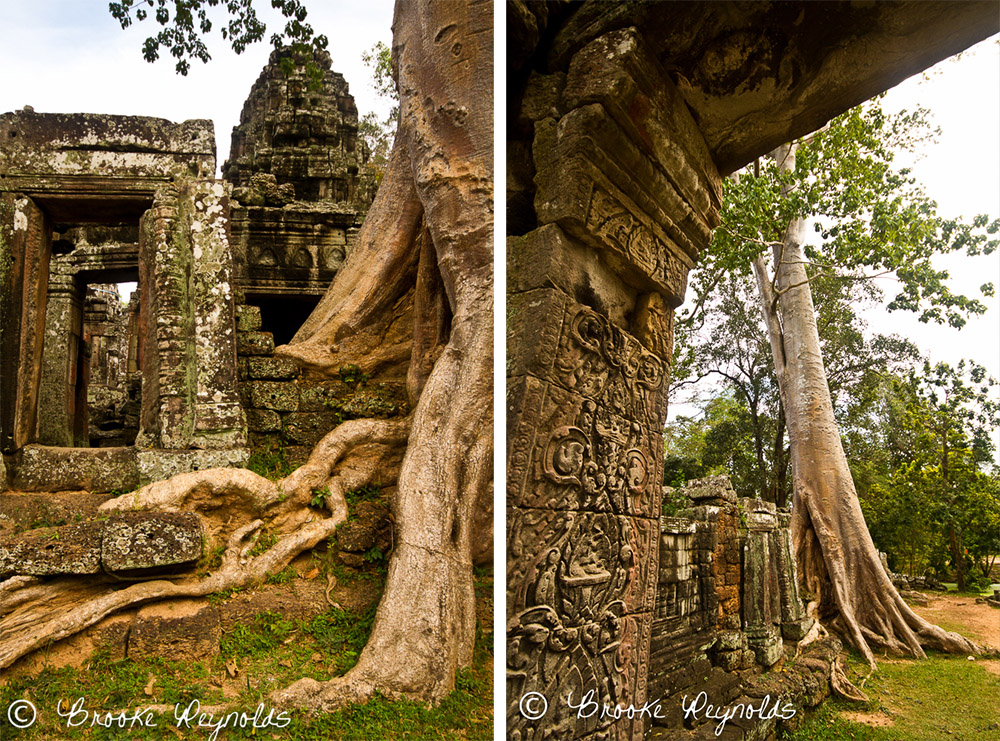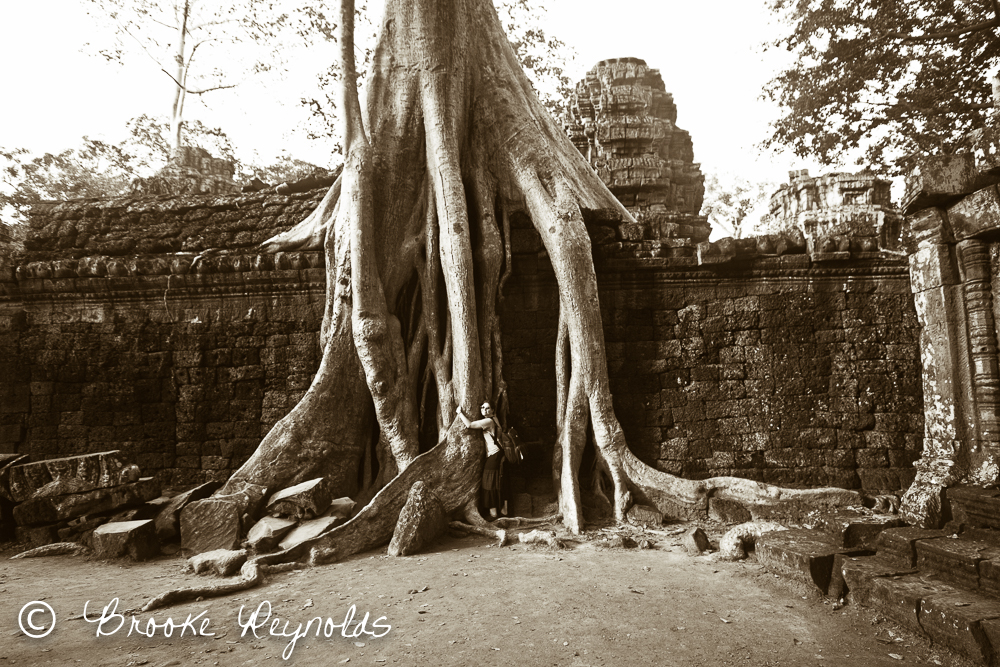 This butterfly landed on me and stayed on my hand. forever. It was magical.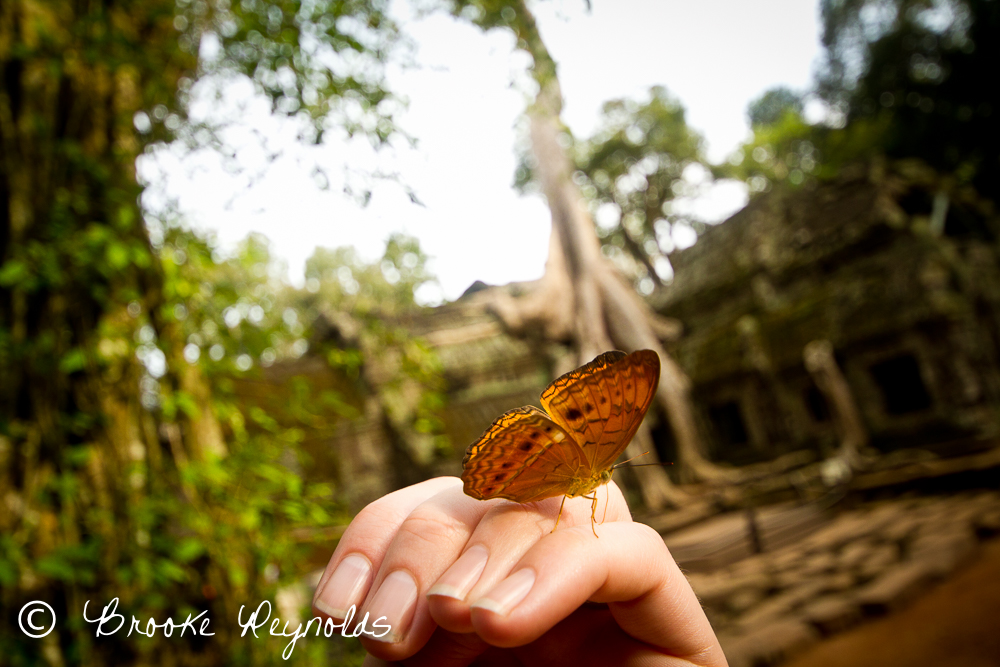 And then he landed on Jerrod's nose and hung out awhile! 😀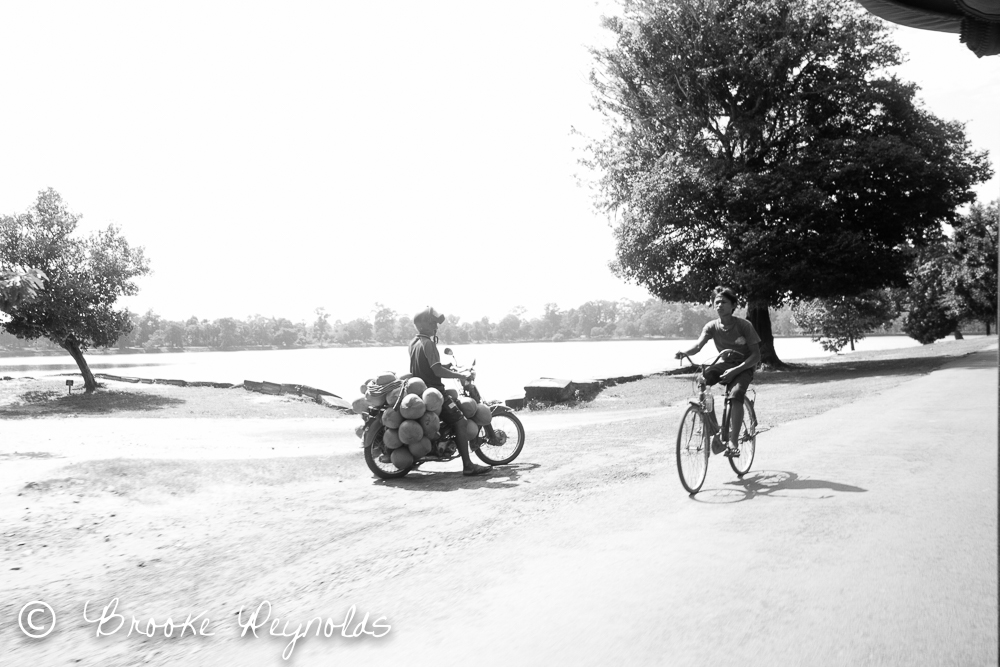 Banteay Srei is another of my favorite temples. The details are amazing. It's called the 'Woman's Temple' as it's said to be so intricate that it must have been carved by a woman:
This village was soooo beautiful. They were all living in shacks, some with no electricity. But they all had smiles on their faces. The simple, happy life.
We bought some bags of rice and visited an orphanage, which was really sad. In fact, it broke my heart. There are plenty of orphanages that may be corrupt, so if you do visit one, it's best to give food and not money.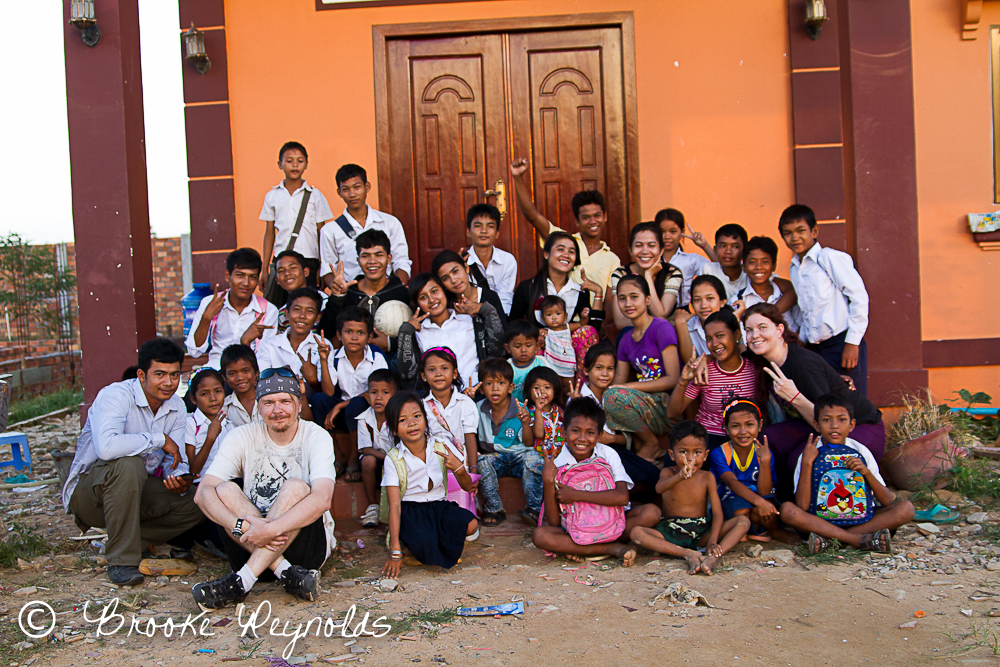 They were very grateful for the rice as it would feed them for many days. But still, I wanted to do more. The kids were just beautiful and clung to us, not wanting us to leave. :'(
The final temple (Koh Ker) we visited was out of the way, but it reminded me of that horror movie where the temple comes alive. It was freaky! It was Jerrod's favorite- see him down there! They don't allow you to climb it though, but I'm not sure I would have anyway. 😛
We hopped a boat on the Tonle Sap Lake and visited a floating village- this is a must do! It's fascinating that people live like this!
Don't forget to watch the sunrise at the most spectacular temple in Angkor:
Hope you enjoyed the ride! Cambodia has a sad history, but the people there have persevered and are doing the best they can. There was most definitely a magic in the air and a feeling of hope and inspiration
View ALL THE PHOTOS at www.capturedbybrooke.com
Peace. Love. Travel.
~Brooke