Whale Watching and Witch Hunting in Massachusetts
Whale Watching and Exploring the Witch History in Salem

We are masochists. Really. Backpacking for 6+ hours a day on cobblestone streets in the freezing cold and wind is only for the super adamant adventurers. My feet and back are obliterated. But it was amazing fun. And yes, I'm only talking about one weekend. We got off work, hopped a plane and there we were in 3.5 hours.
So welcome everyone! This is my very first blog post here (yay!) and I thought I'd start with our most recent little getaway last weekend to Boston and Salem for our nine year wedding anniversary! We used our mileage points to fly and stay in hotels for free. More on how we do this in a future blog post. (I promise!)
For now, check out these beautiful whales!


It's early in the whale-watching season, 9:30 am, and it was COLD. Like, really cold. We're from Minnesota and I was like pffffft! I can handle it. But once we were about an hour out on the water, in the middle of the whale territory, the wind picked up and my face was numb. We did have on winter jackets, hats, gloves and scarves, and still pretty cold on the open sea.
But you know when you're in the middle of experiencing something AMAZING, you forget about your body? It was one of those moments, because the whales started circling the boat.
They were humpback whales, in all their glory, finding food outside the Boston Harbor area of the Atlantic ocean. The protected area is part of the Stellwagen Bank National Marine Sanctuary which is a shallow bank where whales and other marine animals can find food easily due to the high amounts of phytoplankton.
It's one of the 10 best whale watching places in the world. The whales are starting to come up from the south, where they spent the winter breeding and having their babies (!) and then they head north again.
We also seen some white-sided dolphins! They were pretty cute, hopping in and out of the water- but they are FAST. Hard to get a photo- the babies were especially cute- like a little football swimming around. It reminded me of the mini dolphins we swam with in the ocean in New Zealand. <3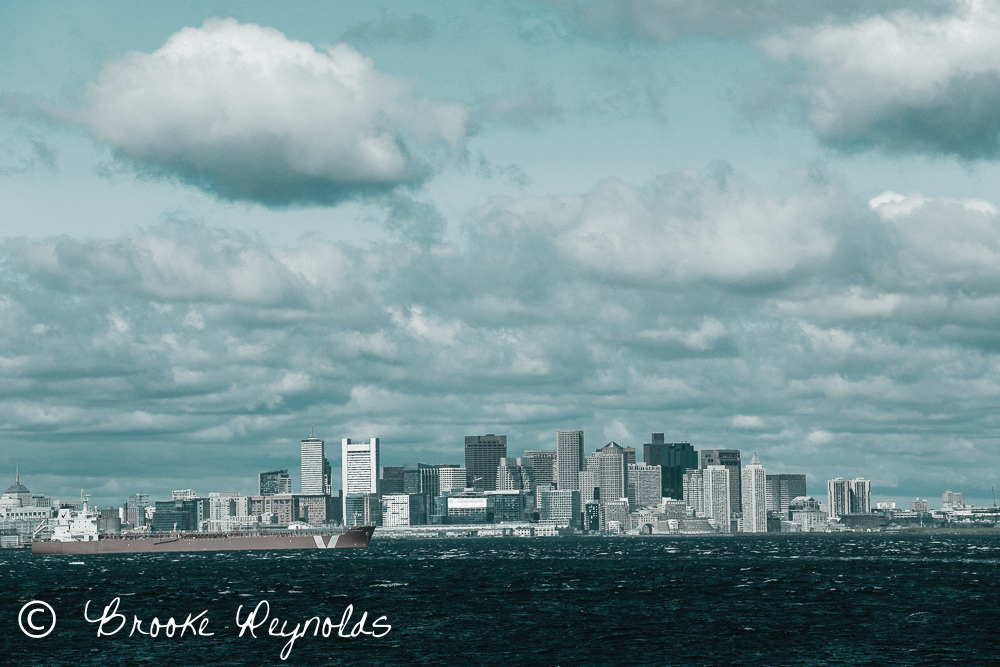 After the whale watch, we still had our backpacks with us from staying overnight at the Hyatt hotel by the airport. We had woke up early and hopped the subway to the downtown area, not even knowing that we'd end up popping out right by the Wharf. So we ended up hopping a whale watch boat before we could even check into our next hotel (The InterContinental). So off we went to find the next hotel. Yes, we used GPS on the phone (one of the advantages of being in the U.S.!) and dropped off our bags quick.
We were STARVED. I had packed some homemade banana oat bars and we munched on those for breakfast, but for lunch, I wanted to try a yummy vegan restaurant called My Thai Vegan Cafe. We found it in Boston's Chinatown. It looked dingy walking up the stairs, but inside, it had a nice vibe and an AMAZING menu of something like 150 vegan dishes. I ordered the Tofu Spring Rolls and Coconut Curry with Fresh Young Thai coconut chunks, vegan shrimp and tofu. It was pretty good, but I wish I had asked for it to be spicier. (I LOVE SPICY)
I also tried the Bubble Tea…in green tea flavor. I'd never tried Bubble Tea before and have always wanted to try it. It's kind of like a slushy with chewy balls of tapioca that are kind of gummy (I suppose that's where the 'bubble' term comes from) It was good, but not something I'd want to have all the time.
Next, we found The Freedom Trail downtown Boston! This is the path Paul Revere took when he rode on the horse with the torch at midnight to warn the colonials of the redcoats approaching during the Revolutionary War.
In the Boston Common, there were the cutest little pigeons. (I always notice the animals 😉 )
The cemeteries in Massachusetts are fascinating. We walked around them quite a bit. There was Paul Revere's grave, and John Hancock's memorial. And some with very interesting inscriptions and engravings.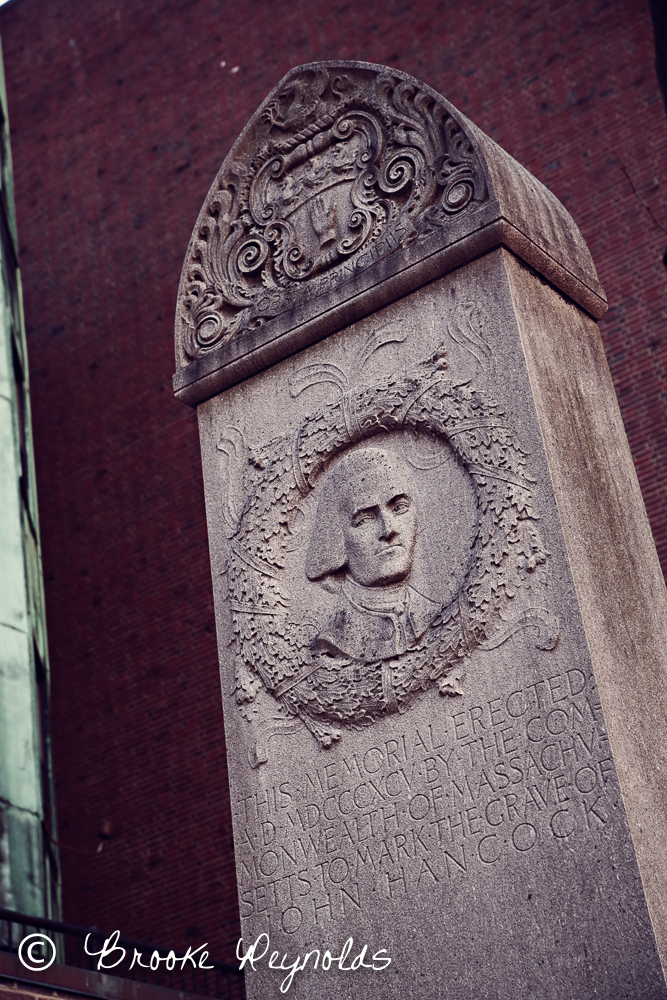 There's also the Holocaust Memorial with these chilling and oh-so-true words:
The next day, we decided to hop the train to Salem (with our backpacks) and spend Easter day there. What a better way to spend a day of rebirth and renewal than by going to the renowned town of the pagans who celebrate the nature of the seasons? 🙂
To our delight, when we stepped right out of the train station, there was a red line to follow around town to all the sites.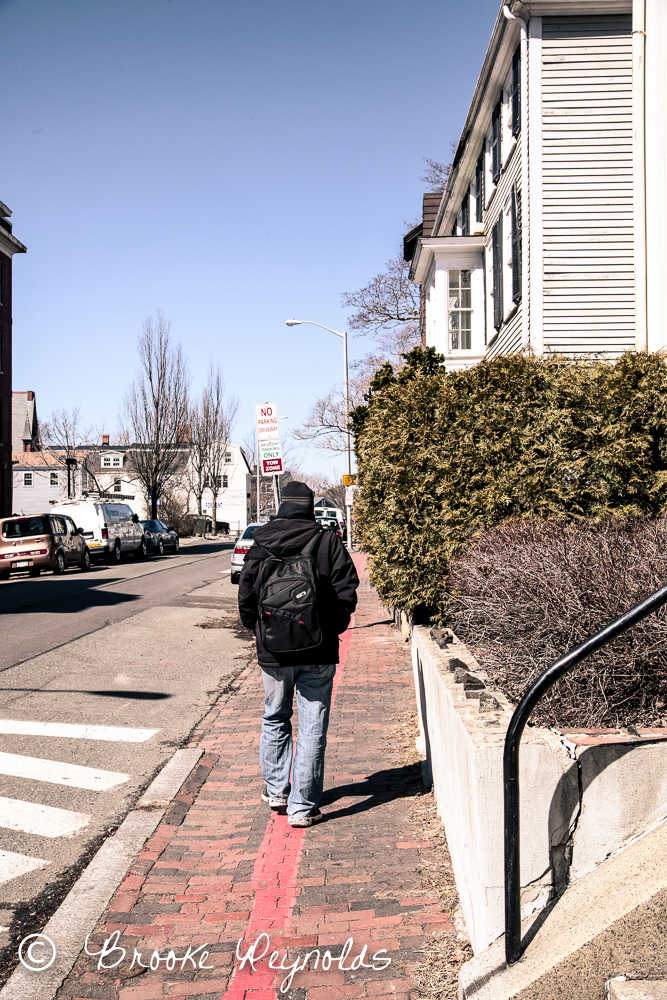 We explored the infamous Witch House that is the only known house with ties to the Salem Witch Trials of 1692.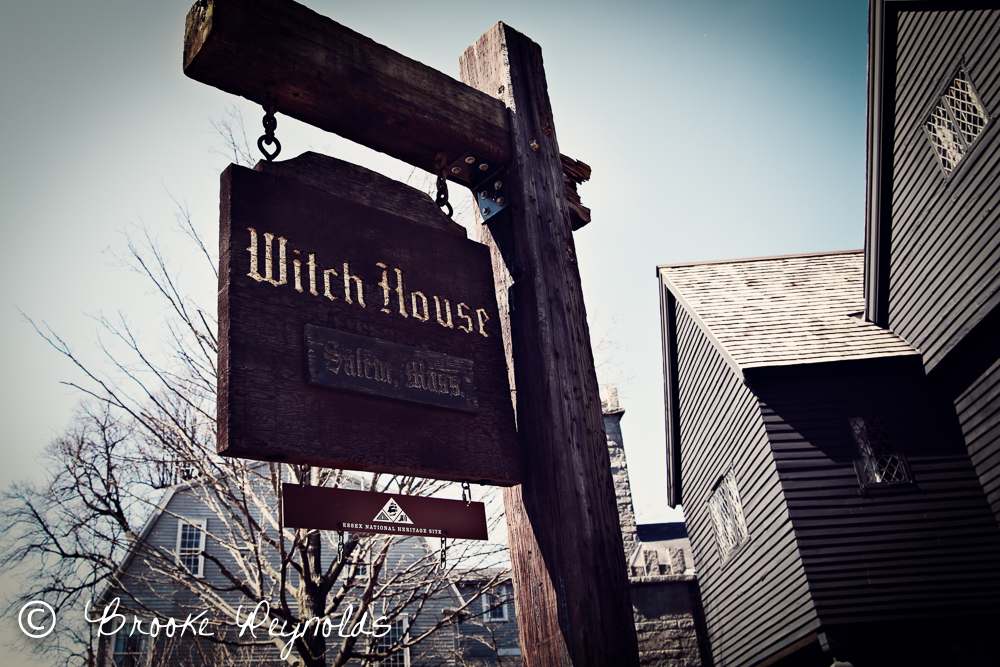 It's quite a sad and tragic history. These women were accused and sentenced to death with very little evidence of anything, sometimes just hearsay. The madness and hysteria continued until the Governor's wife was accused and then he put an end to it.
This sums up what humans are capable of out of fear:
It's unfathomable. But it happens everyday around the world. Hatred and fear are the worst human emotions. We should strive for love, peace and acceptance everyday in every way. History teaches us that hatred never accomplishes anything but tragedy. It's hard to believe, yet not so hard to believe that there was such a thing as 'witch-hunting' once upon a time. 🙁
Nowadays, much of the witch culture in Salem is kept intact and it definitely has a vibe I like! (with no harming of witches!)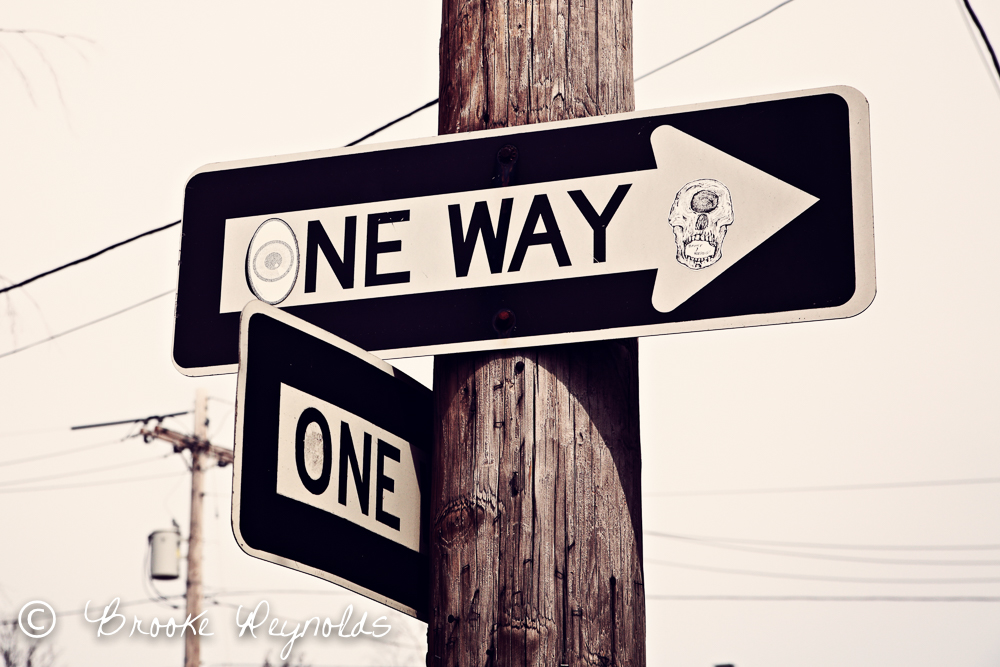 See the gargoyle on top of the window?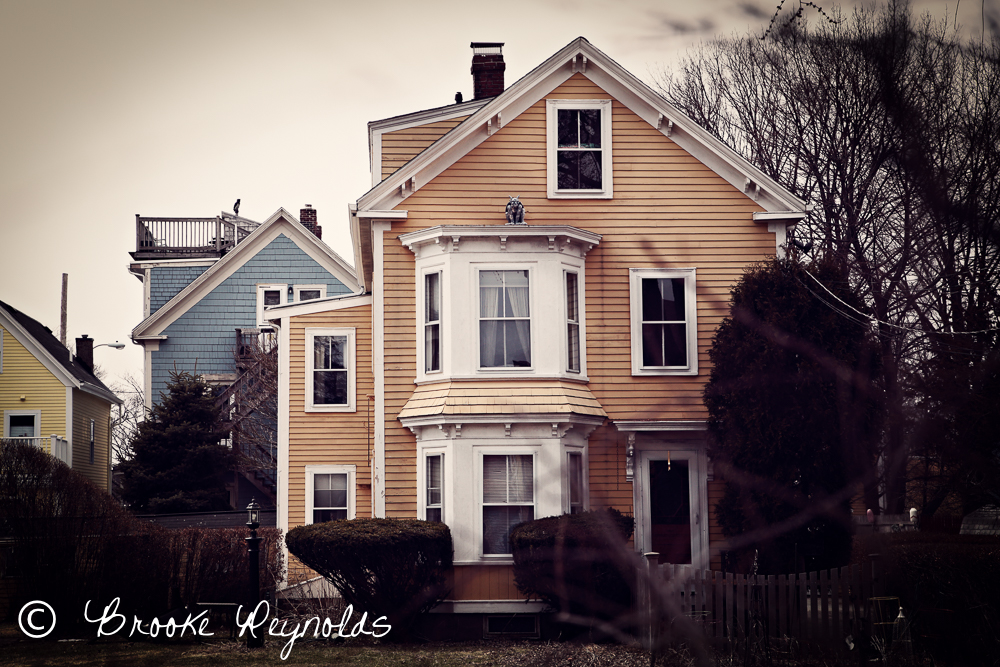 Super old cemetery with tombstones of the Mayflower Pilgrims and people who lived during the Salem Witch Trials: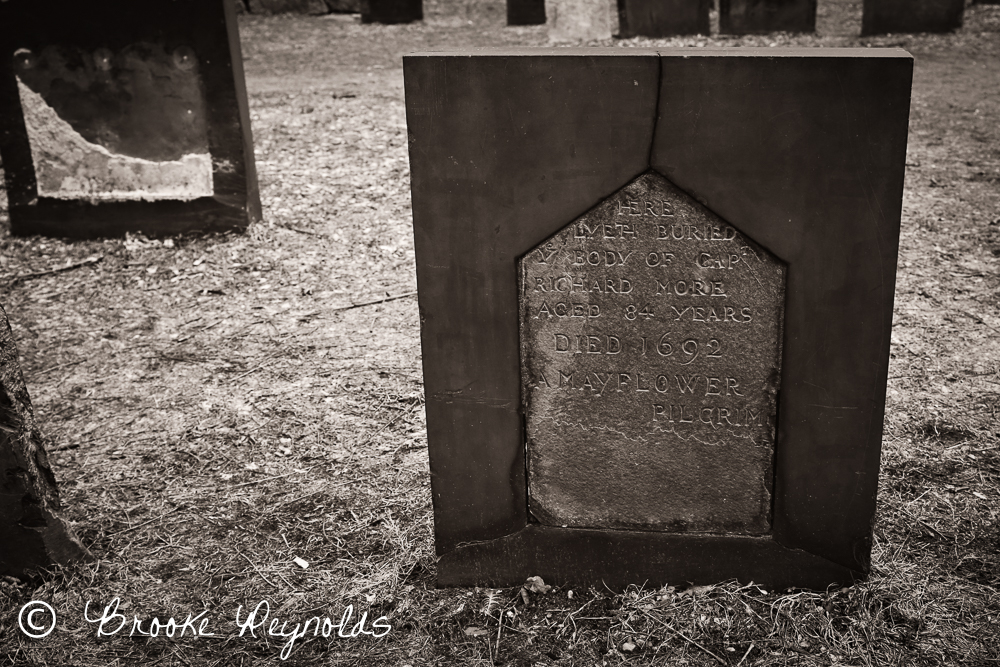 I got some sage and crystals and a pendulum from this lovely witch shop 🙂
We also found an AMAZING organic veg cafe called LIFE ALIVE. Definitely recommend the Green Goddess Bowl (they have a gluten-free Nama Shoyu sauce!) and the Loco Coco Alive Smoothie! mmmmm….
So in summary, you can definitely see A LOT in Boston and Salem in one weekend. Granted, we walked A LOT and we are hurting, haha, but it's worth it! Don't say you don' t have time or money to travel. Go for a weekend somewhere- anywhere! Chances are, there's some ground even right near you that you haven't explored yet!
Stay tuned, follow us on our new Facebook page, and I will try to add new blog posts as often as I can. I would love to hear your comments! Also feel free to leave a comment below and let me know what kind of posts you'd like to see.
THANK YOU SO MUCH!
Peace. Love. Travel.
~Brooke
 "For my part, I travel not to go anywhere, but to go. I travel for travel's sake. The great affair is to move." – Robert Louis Stevenson